Front panels
highest durability
low weight
good mechanical workability
favourable purchase price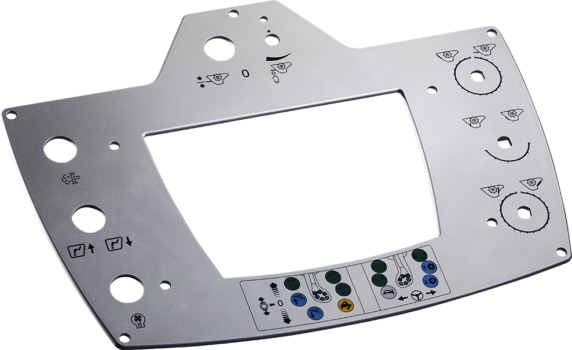 Product characteristics:
Aluminium is a material which is light and easy to machine, making it particularly suitable for all standard front panel moulds.
Depending on the alloy, aluminium has a weight advantage of approx. 50 - 70% compared with stainless steel, and is therefore the most commonly used material for front panels in many applications due to the simpler mechanical processing possibilities. For the electronics sector, it is possible to have the reverse side raw and/or reverse side

raw and passivated. Front panels can also be laminated with a printed or backprinted film for decorative purposes.
Advantages
highest durability & light weight
competitive purchase price & economical large series production using automated processes
fast and inexpensive production of small quantities using stamping or milling
front panels can easily be printed on both sides
depending on the application, the machining edges are blank or the whole part is fully anodised
Printing process
Anodised underprint
Anodised underprinting is only possible with aluminium
The printing ink is embedded in the upper anodised layer by 8-10 ym
White not possible as colour
Scratch and solvent-resistant
black is UV-resistant / colours are only partially UV-resistant<
Heat resistance anodised underprint approx. 115 °C / destruction at approx. 500 °C MORE INFORMATION ON ANODISED UNDERPRINT<
Overprint
Overprint is basically possible with any print medium (aluminium, stainless steel, brass, plastics)
The ink is applied to the print medium / and baked on if required - white as an ink is possible
The ink is not scratch-resistant and only partially solvent-resistant
The ink is UV-resistant
Heat resistance depends on the ink composition and the printing medium to which the ink is applied
Illustration
Anodised underprint and digital anodised underprint process
Materials
Surfaces
Anodised: silk matt, raw
Brass: bright rolled, ground, brushed
Stainless steel: bright rolled, grain 240
Brushed painted: according to customer requirements
Powder coated: according to customer requirements

Material thicknesses
Aluminium: 0.5 to 15 mm.
Plastics: 0.8 to 4 mm & acrylic glass: 0.5 to 10 mm.
Stainless steel: 0.5 to 6 mm.
Brass: 0.5 to 5 mm.
Moulds
Almost any geometry can be produced by milling or stamping.
In some cases there are standard geometries which can be covered by existing stamping tools, e.g. round holes Ø 22.5 mm or with a locking nose.
Other

Seals can be glued into prefabricated grooves
Press-in bolts/Nuts can be pressed in
Press-in bolts in the blind hole can be concealed in aluminium from 4 mm material thickness

Application of welding studs / welding bushes is possible without any problems
Passivation on the back or on the entire component, chrome 6 free, is possible
Examples