Company & type plates
highest durability
low weight
good mechanical workability
low purchase price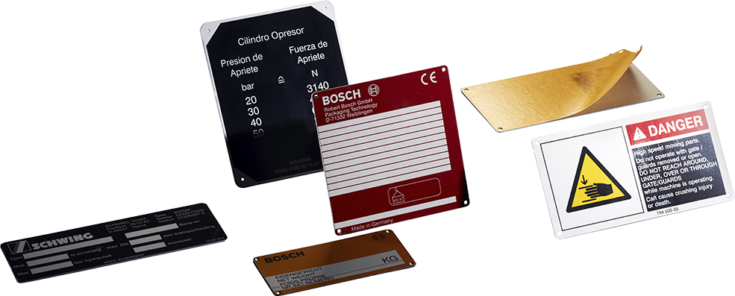 Product characteristics
Safety, overview and information are provided by the correct use of company and type plates. For the individual field of application, as a one-off or series sign, the signs are engraved, anodised, printed or etched - at short notice and at low cost. Painted or anodised aluminium, stainless steel, brass or a range of plastic materials are used as the base material. The highest demands are placed on company signs in particular in terms of their effect on the observer or visitor, e.g. in a practice or company. We would be happy to advise you on the material to be selected in order to guarantee an optimal external effect.
A letterhead or business card is usually sufficient for the creation of your company or type plate. Even a rough sketch is sufficient for creating the complete layout, the final artwork, the photosetting and the film exposure. Fixing materials and other accessories are also included in the range.
Advantages
highest durability
low weight
good mechanical workability
low purchase price
economic large-scale production through automated processes
fast and inexpensive production of small quantities
Depending on the application, the machining edges are blank or the whole part is fully anodised.
Printing process
Anodised underprint
Anodised underprinting is only possible with aluminium
The printing ink is embedded in the upper anodised layer by 8-10 ym
White not possible as colour
Scratch and solvent-resistant
Black is UV-resistant / colours are only partially UV-resistant
Heat resistance anodised underprint approx. 115 °C / destruction at approx. 500 °C
Overprint
Overprint is basically possible with any print medium (aluminium, stainless steel, brass, plastics)
The ink is applied to the print medium / and baked on if required
White possible as colour
The ink is not scratch-resistant and only partially solvent-resistant
The ink is UV-resistant
Heat resistance depends on the ink composition and the printing medium to which the ink is applied
Engraving
When engraving the texts / symbols are mechanically inserted into the material, here the writing is inserted by removing the material mechanically
Laser engraving
When laser engraving, the text / symbols are inserted by laser beam, for this the laser burns away the material in the uppermost material layer
Illustration
Engraving texts / symbols
Materials
Surfaces
Anodised: satin matt, raw
Brass: bright-rolled, ground, brushed
Stainless steel: bright-rolled, grain 240, brushed
Painted: according to customer requirements
Powder-coated: according to customer requirements
Material thicknesses
Aluminium: 0.5 to 10 mm.
Plastics: 0.8 to 4 mm & acrylic glass: 0.5 to 10 mm.
Stainless steel: 0.5 to 4 mm.
Brass: 0.5 to 5 mm
Moulds
Almost any geometry can be produced by milling or stamping.
Nameplates are not really standardised in terms of design and implementation, so any customer requirement in terms of design can be implemented here.
Mechanical engineering standard 2006/42/EC must be observed with regard to specifications for specific symbols, e.g. use of CE and/or colour design for warning / information signs.
Other
Films are also used in the meantime as a replacement for type plates, these are either provided with an overprint or mostly as back-printed films
Fixing by means of 2 or 4 holes for rivets or screws, self-adhesive is of course also possible
Corner radius or pointed corners, if required also bevelled at an angle, there are no limits to your specifications
Sequential numbering by printing or subsequent engraving is possible Modern printing processes also allow CR codes or barcodes for identification without any problems
Examples of