Processes
Anodising
2 fully automated anodising lines
1 x anodising line for titanium rack / piece anodising
1 x anodising line for panel material
Paint baths for standard colours black / bronze / red / green / blue / brown
Specially designed frames for piece anodising
Contact via busbars on racks
Contacting of parts via drilled holes or outer edges
Entire racks can be treated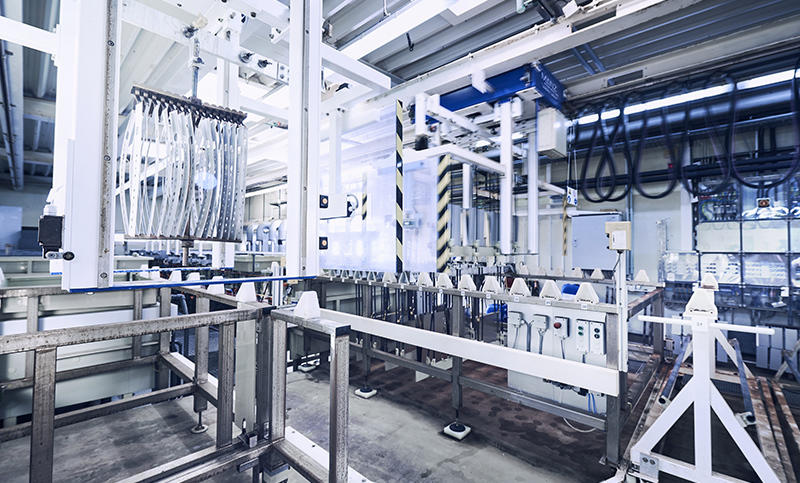 Aluminium in its raw state reacts in the air and forms an uncontrollable, often unwanted, unattractive oxide layer due to a reaction with oxygen or weather-related influences. You can read how to prevent this here.

Anodising
, short for electrolytic oxidation of aluminium,
is a method of producing a protective layer in a controlled manner. This protective layer is achieved by anodic oxidation. This is not, as is often thought, a layer being applied. In fact, the uppermost aluminium layer of the part to be anodised is transformed and an oxide is formed. This thin oxide layer can be created from 12 to 25 µm (microns) depending on the customer's requirements. It protects its aluminium part from corrosion as long as there is no surface damage caused by scratches or similar.
EV1 anodising is one of the standard anodising processes. An oxide layer in the range of 12 to 25 µm is created on the aluminium to be treated simply by anodic oxidation. This is colourless and transparent depending on the aluminium alloy, but can also have a slight yellowish shimmer. It often only serves as a technically functional protective layer in addition to its surface hardening, corrosion and weathering resistance, wear resistance and electrical insulation properties. Small scores and unevenness caused by the production and/or processing of the workpiece can be levelled but not completely removed due to the possible pre-treatment of light (up to 6 minutes) or strong (up to 25 minutes) pickling. This process is mainly used by tool, mould and machine manufacturers, turning shops, milling shops, manufacturers of building hardware and medical technology, etc. to protect their workpieces. However, the EV1 surface, also known as EURAS C-0, is also used as a decorative surface in the building industry, in the automotive industry, for household appliances, lamps and furniture fittings, in the production of signs, etc.
The first step is often surface treatment of the aluminium parts, e.g. pickling, grinding. This first treatment produces matt to high-gloss surfaces, which are then dyed and anodised in the second step, or if no colour is desired, anodised directly.
The German DIN 17611 recommends the designations listed in the aluminium data sheet O 4 published by the Gesamtverband der Aluminiumindustrie e.V., Düsseldorf.
DIN 17611 ( as of 11/2007) in connection with Aluminium data sheet O4 Designation according to EURAS Standard
| | | | |
| --- | --- | --- | --- |
| EV1 | natural colour | C-0 | colourless |
| EV2 | nickel silver light | C-31 | light bronze |
| EV3 | gold | C-32 | bright bronze |
| EV4 | bronze medium | C-33 | medium bronze |
| EV5 | bronze dark | C-34 | dark bronze |
| EV6 | black | C-35 | black |
Applications
For panels which are traded as whole boards
Anodised material is generally used for engraved signs.
Partially during milling or stamping, so that later reworking such as grinding can be omitted.
What Künkler offers
Our methods