Front films
Printing of front films using screen printing or digital printing
Short delivery times (usually between 2-4 weeks after sampling)
Front film design
Embossing of front films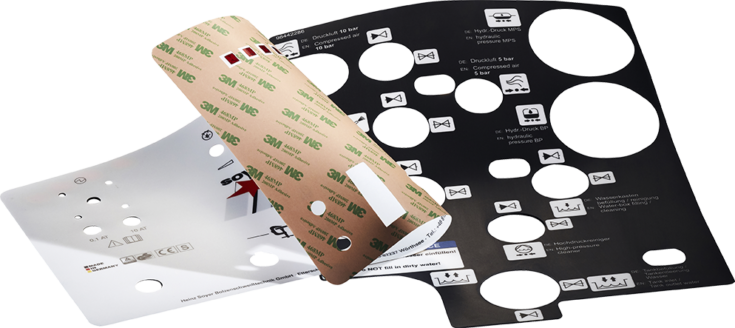 Product characteristics
Front films, also called design films and decorative films, are the face of an appliance, system or machine and are part of the communication interface. They make a decisive contribution to the product's sales success.
We consider the respective corporate design and use our experience to ensure that your product sells at its best.. Production can be carried out using screen printing or digital printing, depending on the requirements.
Advantages
Printing of front films using screen printing or digital printing
Short delivery times (usually between 2-4 weeks after sampling)
Front film design, embossing & backlighting of front films
Prototypes in digital printing
Maximum colour fidelity, weatherproof, dust and waterproof, resistant to a wide range of chemicals
Printing process
Back printing
In back printing, the ink is applied mirror-inverted to the reverse side using a screen printing or digital printing process, which means that the print is protected later by the film.
Overprint
Overprint is basically possible with any print medium (aluminium, stainless steel, brass, plastics).
The ink is applied to the printing medium / and baked on if required.
White possible as colour, colours are UV-resistant.
The inks are not scratch-resistant and have only limited resistance to solvents.
Heat resistance depends on the ink composition and the printing medium to which the ink is applied.
Illustration
Back printing of films
Materials
Plastic
Acrylic glass GS transparent
Thickness 1 to 10 mm
PVC hard
Thickness 0.8 to 12 mm
white or grey
plotter foils
Oracle 751C
Thickness 0.06mm
Different colors
Kömacel rigid foam
Thickness 5 + 10 mm
Color white
Engraving materials 2-layer
ABS material
Different colors
Thickness 0.8 to 2.0 mm
Engraving materials 3-layer
PVC material
Different colors
Thickness 0.8 to 2.0 mm
Polyester films (PES)
Matted front, smooth back
Front / back transparent smooth (touch panel suitable)
Thickness 0.15 / 0.20 / 0.25 mm
Suitable for digital printing and screen printing
Clear coat possible on the front
Formica / melamine
Different colors
Thickness 0.8 to 3.0 mm
Polycarbonate foils (PC-Lexan)
Matted front, smooth back
Thickness 0.25 / 0.375 / 0.5 mm
Silk screen printing process only
More info
Surfaces
front panel frosted / rear smooth
front smooth / rear smooth
Material thicknesses
Polyester: 0.15 / 0.20 mm
Polycarbonate: 0.25 / 0.375 / 0.5 mm
PET films: 0.18 / 0.20 mm
Moduls
In our company films are usually cut by CO2 laser, for this purpose we use optical camera systems which, by means of software, achieve a cutting accuracy of 0.10 mm. Cutouts are also made by laser. Cutting on guillotine shears is also sufficient in individual cases.
Almost any geometry can be realised as an assembly in combination with an aluminium or stainless steel carrier plate.
Other
Films are also used in the meantime as a replacement for type plates, these are either provided with an overprint or mostly as back-printed films
Depending on the application, clear lacquer can also be partially applied to the front side; this is used especially for LED windows
Films can also be provided with self-adhesive over the entire surface
In some cases, films are provided with self-adhesive which is cut out on translucent windows
Key embossing can be done with an embossing tool which we build ourselves.
Examples