Material
Brass
Brass is a copper zinc alloy, slightly harder than pure copper, but not as hard as bronze. Unlike steel and aluminium, this alloy cannot be hardened by heat treatment. Strength can only be managed by appropriate alloy selection and mechanical forming (rolling, forging or drawing in cold condition). Brass is characterised by very good hot forming and very good forgeability.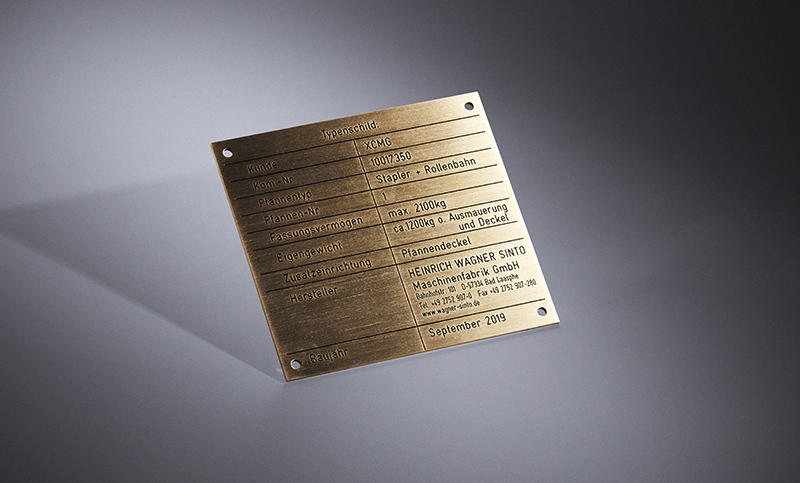 The colour spectrum ranges from golden red (with a high copper content) to light yellow (with a high zinc content) due to the relevant copper content.
Just like copper and bronze, brass has the property of acquiring a natural patina over time, which in turn forms a protective layer against corrosion. The most common alloy is CuZn37, with a 37 percent zinc content.
Brass usually contains a copper content of at least 50 percent, as it becomes brittle below this limit and is therefore difficult to process. Brass alloys with a copper content of more than 70 percent are also known as table brass, tombac or gold brass. These are mostly used in jewellery production, but also by the military in the production of steel jacket bullets.
As a chip breaking component, the lead content is between 0.5 and 3 %. If this value is exceeded, this alloy is considered to be special brass (see below). Those types of brass which contain small amounts of lead as a third component for better machinability are also called machining or metal-cutting brass.
Nowadays, machine brass is usually still referred to as "Ms58", which is actually no longer permissible and often causes problems, as this quality is no longer available according to the standard. From 1974 this was the generic term for the three materials CuZn39Pb2, CuZn39Pb3 and CuZn40Pb2.
Consequently Ms58 is a widely used material usually available from stock.
Due to its gold-like colour, brass is used for decorations and fittings. But brass is also of high technical importance thanks to its good electrical conductivity and mechanical stability. It is often used for fittings and mouldings in sanitary installations or shipbuilding or for decorative signs, e.g. law firms, because of its good corrosion-chemical properties.
Applications
Engarving
Mechanical insertion by milling / engraving of texts and symbols into the material.
Engraving depth: 0.2 - 0.5 mm depending on customer requirements.
As a rule, the engravings are designed and coloured with a nitro lacquer.
As brass tarnishes depending on the weather an oxidation process occurs, and a protective lacquer (zapon lacquer) is often applied
Etching
When etching, the area where no ink is to be applied is covered with a special ink, this is known as negative printing.
During etching, the brass passes through a chemical bath, the areas which are not covered with special paint are attacked by the chemicals and a roughened surface is created, then the special paint (etching resist) is removed chemically.
The etched area is then usually dyed with a paint and scrapings.
The paint is baked in an oven.